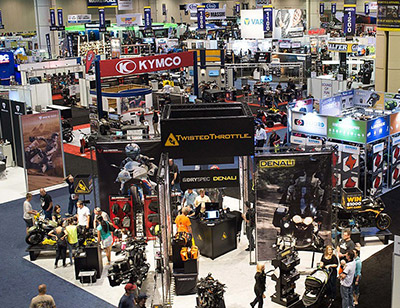 Honda, one of the biggest motorcycle companies in the world, made a debut at American International Motorcycle Expo (AIMExpo) in 2015 was still a vivid memory for everyone. This year, AIMExpo is also thrilling because Aprilia, KTM, Moto-Guzzi, Vespa and Piaggio all the world famous brands are joining in Orlando from October 13 to 16. At AIMExpo, many brands will have their new products lineup exhibited. Participants can wander in the world full of 2017 new powersports and motorcycling, for some of which it might be the very first time to be seen in public.
AIMExpo is not just an iconic powersports show in North America itself, but also provides a great venue for dealers, professionals, even aftermarket parts makers and consumers to exchange ideas and experiences. By offering a special stage to introduce custom bikes built by standard motorcycle corporations, bike builders, millennial artisans, etc. to other enthusiasts and the general public. AIMExpo has unveiled a brand new showcase for 2016 known as "Custom Culture at AIMExpo."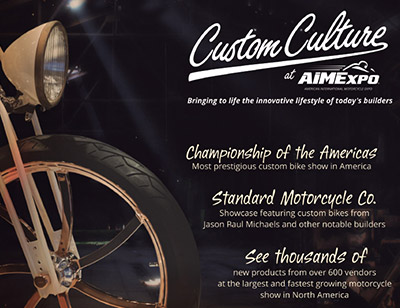 Custom Culture competition 2016, like before, four classes are consisted - Performance Custom, Street Custom, Retro Custom, and Freestyle Custom. The winner of which will join Team America at the 2018 AMD World Championship. This year, Custom Culture hosts a forum "Our Changing Industry, A Millennial Roundtable," focusing on millennial builder and their urban lifestyle, to understand the needs of and relating to this important demographic segment. Also, Custom Culture ambassador Leticia Cline will meet attendees at Orange County Convention Center (OCCC) North Hall.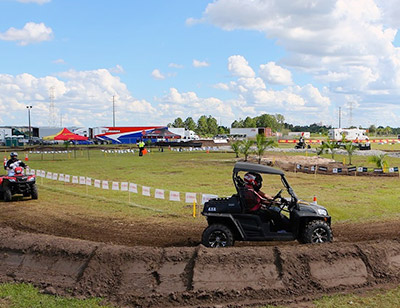 AIMExpo Outdoors! is very popular for its various demo rides. In AIMExpo Outdoors!, you will have a chance to test ride on the latest 2017 motorcycles, scooters, ATVs, UTVs, street ride or off-road quad, and side-by-side. In response to attendees' request, AIMExpo moves venue from OCCC West Concourse to the North Hall so that attendees could enjoy AIMExpo Outdoors! right next to the indoor showcase.

Another one who play a crucial role in AIMExpo we shouldn't forget about - Aftermarket parts makers. In those numerous aftermarket parts makers, there is one we would especially like to introduce. Magazi is not a brand only emphasize on designing stylish rear-view mirrors, it also put a tremendous effort in its quality. They believe a good product should be made of three factors: style, functionality, and quality. Their mission is to supply best match mirrors for each and every biker.
Come say hi and discover awesome parts at Magazi booth!
SHOW EVENTS: AIMExpo 2016 -- OCT 13~16, Orlando, USA.
Booth Number : NO.2037, Hall, (Orange County Convention Center).
So didn't get the ticket yet? Act right now to get the ticket! AIMExpo this year is going to blow your mind.