BSD system with LED indicators compatible with most Harley Davidson
Features




A revolutionary safety product to monitor the blind spots with advanced radar sensors while riding your motorcycle. Modern cars now have this technology and it only makes sense that your motorcycle does too.
LED indicator designed to attach to the both sides of the mirror frame in two ways, direct bolt-on or extend a mounting point with an extended bracket. It signals you when there is traffic coming into your blind spots. This will increase rider awareness to surrounding traffic conditions.
With the Magazi BSD system, you can ride with more confidence and safety. The warning zone of the system covers left and right adjacent lanes with up to 30 ft range.
BSD is automatically activated when the motorcycle is started.
Easy installation - most motorcycles can be equipped in under an hour, two radar sensors mounted to the license plate frame. Power for the system is drawn from the bike's battery. Then, indicators that light up are placed near the bike's mirrors.
Material


BSD radar body: Hi-impact plastic housing
BSD radar bracket: Aluminum
BSD indicator: Aluminum
BSD indicator bracket: Aluminum

BSD SPEC


Storage temperature: -40°C ~ +90°C
Operating temperature: -40°C ~ +80°C
Input Voltage Range: 9V – 16V, 12V (Typical)
Current Consumption: <1050mA ± @12V
Dust & waterproof compliant: IP67
Specifications: ISO 16750
Radiation Regulations: FCC/NCC
Weight


n.w.: 880 g./1.94 lbs. (pair),
g.w.: 1178 g./2.59 lbs. (total package, packing inclusive)

Package


BSD control unit x1, radar x a pair,
bracket for radar (L type) x 2, bracket for radar (straight type) x 2,
LED indicator x 2, bracket for indicator x 2,
wire harness set x 4, zip ties, quick connector x4,
10MM standard thread bolt x2, 10MM reverse thread bolt x1,
8MM standard thread bolt x2, 8MM reverse thread bolt x1, bolt cap x2,
10MM to 5/16"-24 adapter x 2
Compatibility


Direct bolt-on on mirror perch:
Compatible with most Harley Davidson


*Please check NOTES below.


 
Apply the indicators under your mirrors with the extension brackets:
For any mirror bolt stud under 10mm.


*Please check NOTES below.
Our BSD system is NOT RECOMMENDED if your motorcycle has:
1. The exhaust placed too close to the license plate, the heat from exhaust gases will damage the radar sensor.
2. The license plate is not located directly behind the motorcycle.
3. The distance from the ground to the license plate is lower than 50 cm (19.68 inch) or higher than 90 cm (35.43 inch).
4. There is no space for the radar sensor on the both sides of the license plate. (you can download
the template
to measure and find out.)
*Please allow measuring deviation due to manual measurement.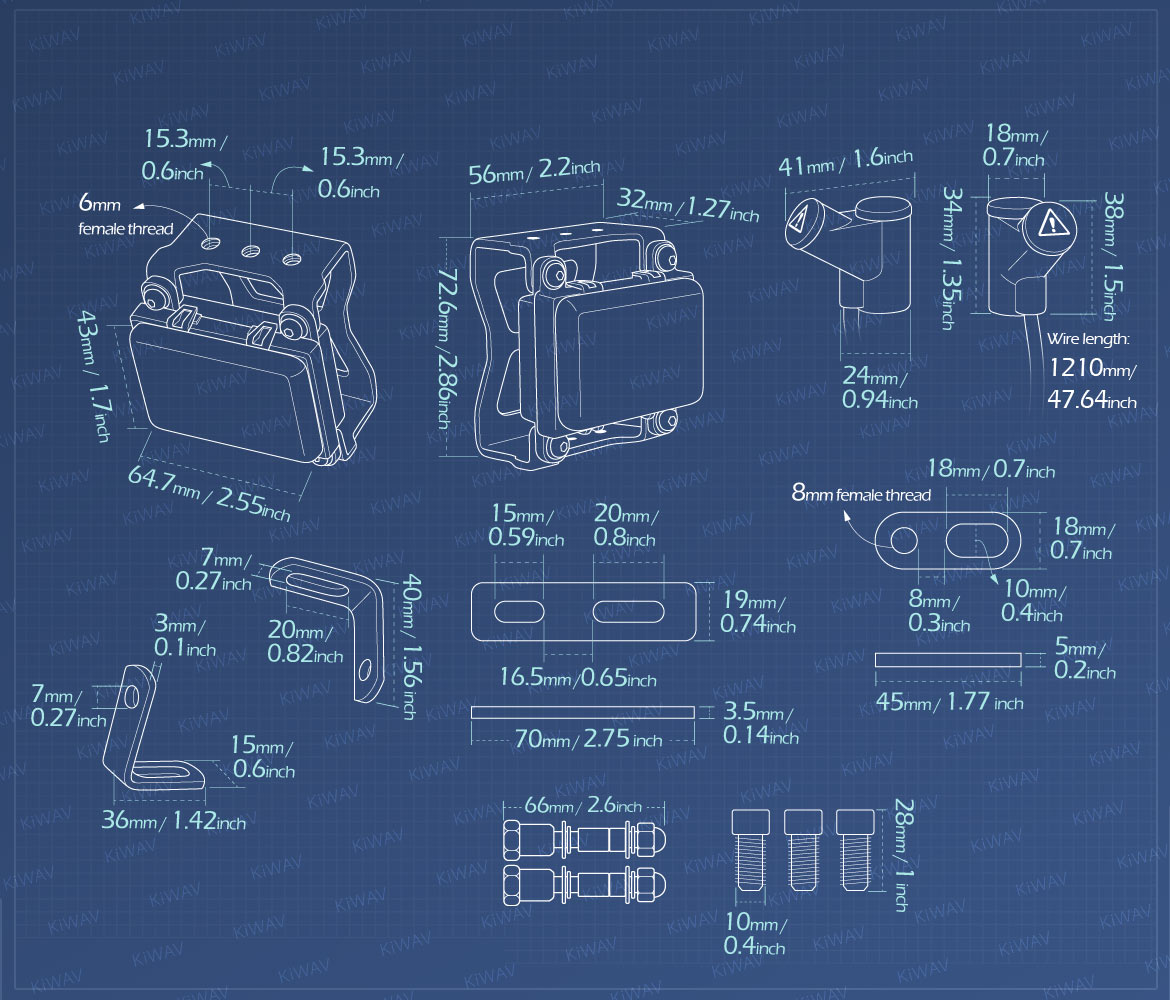 There are yet no reviews for this product.
Please log in to write a review. Log in