Vintage hand control gold&silver w/ throttle clamp for 1 inch bar
by
KiWAV
SKU: 990522323325012
EAN: 0700381024922
The housings are available in powder coating black, chromed and satin finish. Comes in a forged aluminum body, lever, and cover held in place with two screws. The compact size and lever designed to fit your hand perfectly will give a very retro-style look for all custom projects. It fits all 1" handlebars and has a 14 mm bore size. For use with DOT 4 or DOT 5 brake fluid.
This throttle housings are designed for use with just a single throttle cable. A perfectly match with KiWAV vintage hand controls. Features a throttle stop pin and a brass knurled thumb screw for throttle lock.
0323
*Forging
is a manufacturing process involving the shaping of metal using localized compressive forces.
Forged aluminum parts are stronger

than a part machined by a solid block of the same material. The reason for this is that a forged part has been strain hardened through repeated impact force. Forging allows for preferential grain direction to occur as well as a refined grain boundary which leads to precipitation hardening.
Feature




Vintage and classic look.
For 1 inch handlebar.
9/16" bore brake master cylinder.
Can be used with 2,4,6 piston brake caliper.
Pull only type throttle, single cable design.
Old school thumb screw for throttle lock.
Throttle stop pin design.
Perfect for all retro-style custom projects.
Material




*

Forged aluminum

Size


Brake master cylinder 9/16" bore
Banjo bolt: 3/8"-24
Cable hole: M6 * 1.0P thread

Package


Hydraulic brake lever set x 1, cable clutch lever set x 1, spare pin x 1, throttle clamp x 1
Color


Silver & gold

Net Weight


555g/ 1.22 lbs

Fitment


Fit most custom motorcycle with 1" handlebar.
1. Only mount one mirror, on the left hand side control.
2. Switches are not included.
3. Brake light switch is not included.
4. Clutch cable is not included.
5. Do not fit for hydraulic clutch system.
6. Throttle tube is not included.
*Please allow measuring deviation due to manual measurement.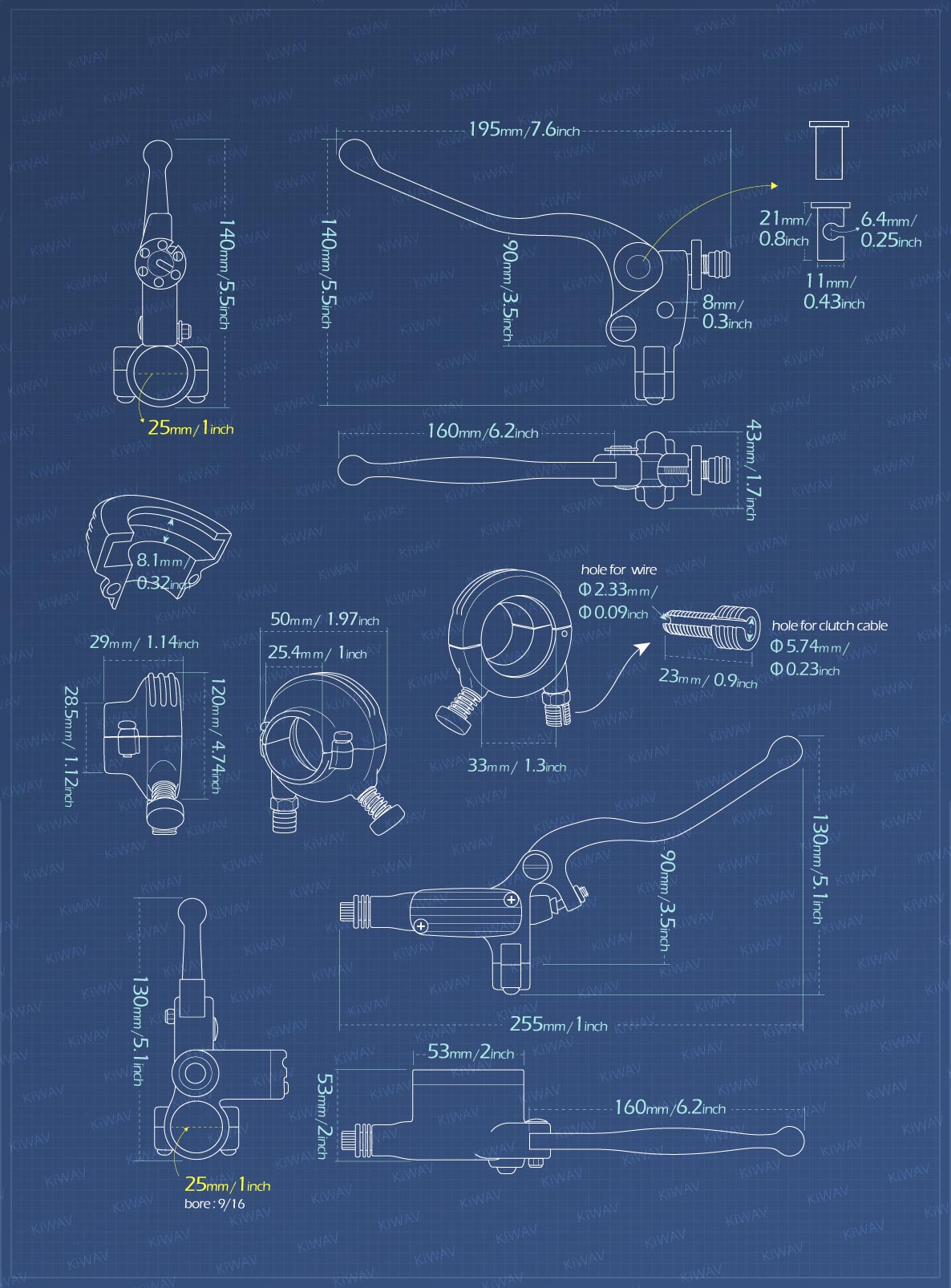 There are yet no reviews for this product.
Please log in to write a review. Log in