TPMS tire pressure monitoring system with Lucifer LED mirrors for sportsbike
by
Magazi
Two-tone LED turn signal rear view mirrors + TPMS display! Universal fit hole spacings C2C on the fairing from 26 to 55 mm sportbikes with M6 bolts.
Features




Two-tone color LED lights, various combinations of driving and indicator lights set up.
Waterproof and dustproof LED modules.
Stylish designs for your custom applications.
Wider vision with convex lens and E-mark approved.
Easy installation.
Sealed LED module with IP67 dust & waterproof Compliant.

TPMS Features




Check the tire pressure in an easy way: rear view mirrors + TPMS display 2 in 1!
Showing tire pressure, battery voltage wirelessly, through hidden display inside mirror lens.
Internal type of sensor, more accurate than external cap type sensor.
Low or high tire pressure alarm with visual red LED.
Bluetooth 4.0 wireless data transmission.
Battery life depends on usage. In average it's more than 3 years.
Allows easy access for tire maintenance with L-type valve, makes checking and inflating your tires easy.
IP68 waterproof - The hidden display module passed the IP68 test, means that will give reasonably water-resistant in daily use.
The tire pressure data can also be viewed from APP, if pairing with Bluetooth smart phone.
Material


Mirror Housing: ABS plastic
Mirror Stem: Aluminum
Air Valve: Aluminum

TPMS SPEC


Storage temperature: -40°C ~ 125°C
Operating temperature: -20°C ~ 105°C
Operating frequency: 2.4GHz
Detect pressure range: 0 ~ 92 psi (637kpa)

Shape


Diamond / Other

Glass


Chrome convex lens

Weight


n.w.: 939 g./2.06 lbs. (pair),
g.w.: 1219 g./2.68 lbs. (total package, packing inclusive)
Color


Mirror plate: Matte black
LED: White: 2 PCS (12V / 0.9W), Amber: 7 PCS (12V / 0.9W)

Adjustment


Highly adjustable

Wire Length


620mm / 24inch

Package


A pair of mirrors ( Left hand / Right hand ),
TPMS sensor x 2, L-type air valve kit x 2,
adapter with toothed adjustment joint x 2 PCS,
rubber mounting gasket x 2 PCS,
M6 bolt 25 mm long x 4 PCS,
M6 bolt 40 mm long x 4 PCS,
M6 nut x 4 PCS, big washer x 4 PCS, small washer x 4 PCS
Compatibility


Suitable for hole spacings C2C on the fairing from 26 mm to 55 mm with M6 bolts
(See the Fitment List)
Fit wheels from 10" to 18"


(Please make sure your rims' width is more than 27mm and depth is more than 28mm)

Installation

1. Please refer to your service manual to remove the original mirror.
2. Temporarily fix the mirror to the bolt fixing position of the vehicle, using the base rubber, bolts (those with matching length or genuine one), washers and nuts. (See the figure below)
3. Once temporarily fixed to the left and right, please adjust the whole position using hexagon wrench at the two bolts at the bottom of the mirror.
4. Tightening each part after the position is finally fixed.

Connect to the Turn Signal

♦ There is no need to replace the relay when using this product with exisiting blinkers.
♦ Relay is needed when using this product as the only turn signal.
♦ Minor modification might be required depending on motorcycles.


Check the wiring of the vehicle on the manufacturer service manual, refer to the wiring table below, and connect the turn signal wiring with the attached electro tap.
Also, please wire the position line (white) of this product to the accessory power supply of each vehicle.

A table of this product and main manufacturer blinker wiring colors:

| | Running Light (-) | Right Turn Signal (+) | Left Turn Signal (+) |
| --- | --- | --- | --- |
| Lucifer | black | yellow | yellow |
| Honda | green | light blue | orange |

Each manufacturer wiring color in the table is for reference only, it depends on the vehicle year and specifications, please be sure to confirm with the service manual issued by the manufacturer and connect it.
1. Consult a mechanic or a local store before performing any actions.
2. Read the instruction and video before installing the TPMS sensor.
3. If you replace your stock turn signals with these LED mirrors, a load equalizer or a LED-compatible flasher may(will) be required to have the LEDs flash at the normal rate.
*Please allow measuring deviation due to manual measurement.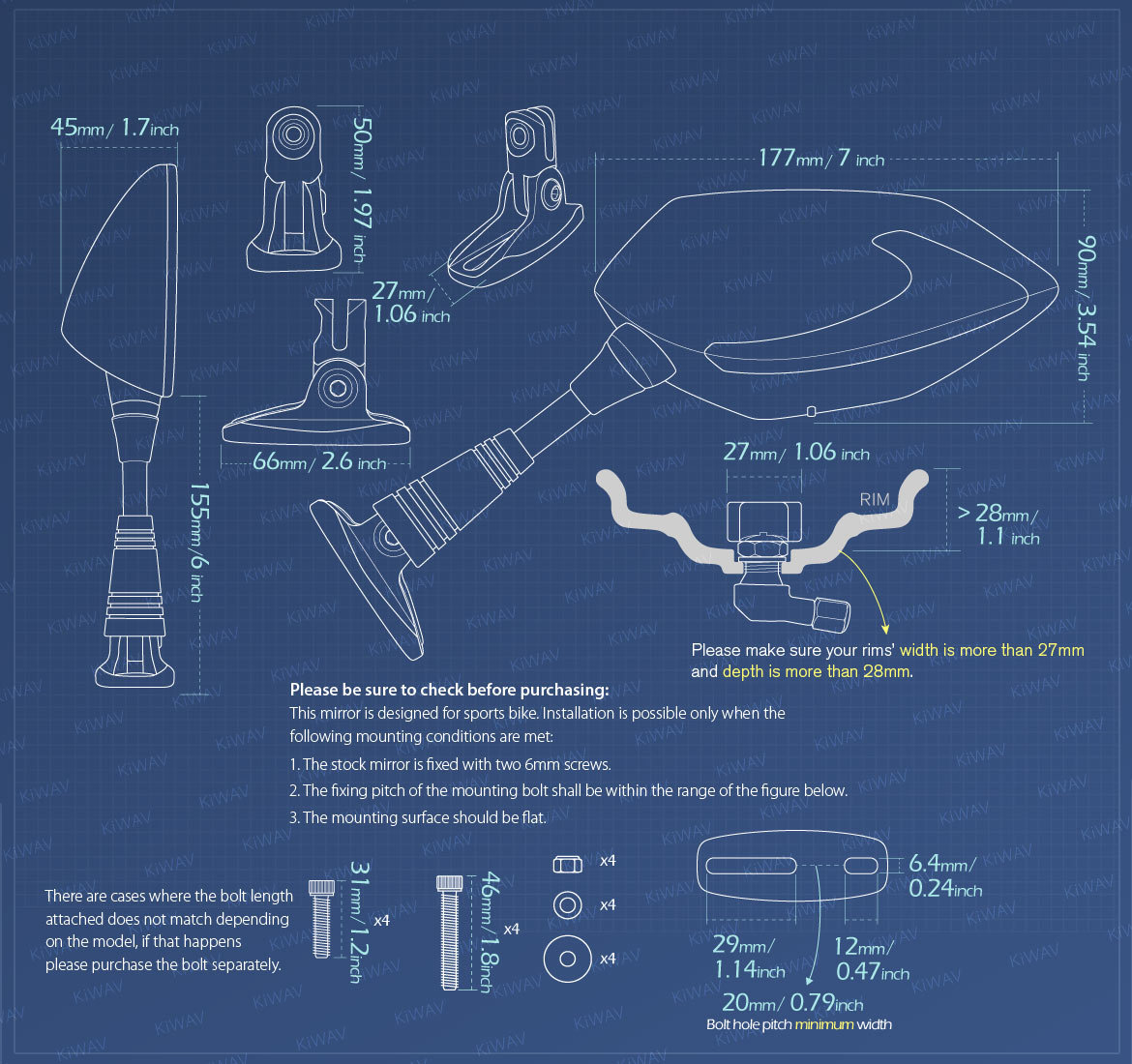 There are yet no reviews for this product.
Please log in to write a review. Log in