ViperII black fairing mount w/ black adapter
by
Magazi
SKU: 100144619050103
EAN: 0680577055032
Hot item!

More than 300 people have purchased it.
2019 new version mounting adapter! Cutting edge gear-tooth-like designed joint reduces vibration. Magazi viper shape aluminum rear view motorcycle mirror ViperII is for sports motorcycles. ViperII is E-mark approved. The mirror housing is made out of Forged CNC aluminum & ABS plastic and the stem is made of Forged CNC aluminum 2 joint(s) make it high adjustable, diamond shape chrome convex lens gives a wide and clear view.

Feature




Stylish designs for your custom applications.
Unique ball joint, easily adjust this mirror.
Wider vision with convex lens and stylish mirror plate gives it better look and feel.
Pair of nicely CNC crafted eye catching diamond shape aluminum mirrors.
E-mark approved.
Material


Mirror Housing:

*

Forged CNC aluminum & ABS plastic
Mirror Stem:

*

Forged CNC milled aluminum


Shape


Diamond / Other

Glass


Chrome Convex Lens

Weight


n.w.: 540 g./1.19 lbs. (pair),
g.w.: 850 g./1.87 lbs. (total package, packing inclusive)
Color


Mirror: Black mirror plate & black viper shape aluminum
Adapter: Matte black

Adjustment


High adjustable ( 3 adjusting joints )

Package


a pair ( Left hand / Right hand ),
adapter with toothed adjustment joint x 2 PCS,
rubber mounting gasket x 2 PCS,
M6 bolt 25 mm long x 4 PCS,
M6 bolt 40 mm long x 4 PCS,
M6 nut x 4 PCS, big washer x 4 PCS, small washer x 4 PCS

Fitment


Suitable for hole spacings C2C on the fairing from 26 mm to 55 mm.
See the Fitment List
*Forging
is a manufacturing process involving the shaping of metal using localized compressive forces.
Forged aluminum parts are stronger

than a part machined by a solid block of the same material. The reason for this is that a forged part has been strain hardened through repeated impact force. Forging allows for preferential grain direction to occur as well as a refined grain boundary which leads to precipitation hardening.
Minor modification might be required.
*Please allow measuring deviation due to manual measurement.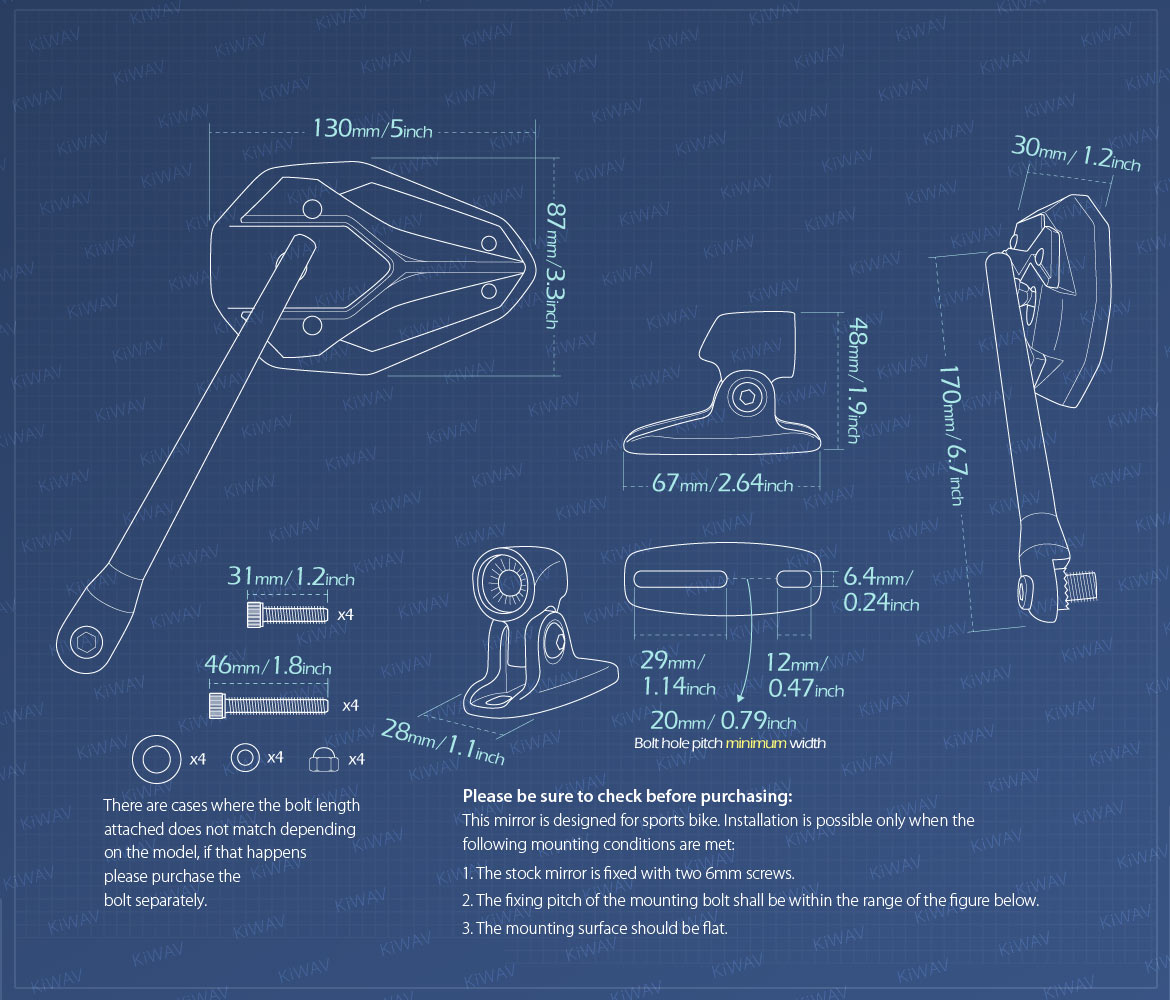 How to install the mirrors?
Check the video below to follow the step by step of the installation:
There are yet no reviews for this product.
Please log in to write a review. Log in