Lucifer LED mirrors
SKU:
PARENT-01-1900LED-Lucifer
Hot item!

! More than 500 people have purchased it.
To view more product information (more photos, specification, and dimension), please choose a fitment above.
Lucifer the fallen angel once was god's favorite son, but he turned out to be a demon and lives between the fire of hell and the pure white sacred beam forever.
The orange and white wing-shape LEDs provide various combinations of driving lights and indicators, which is Lucifer mirrors' most popular feature.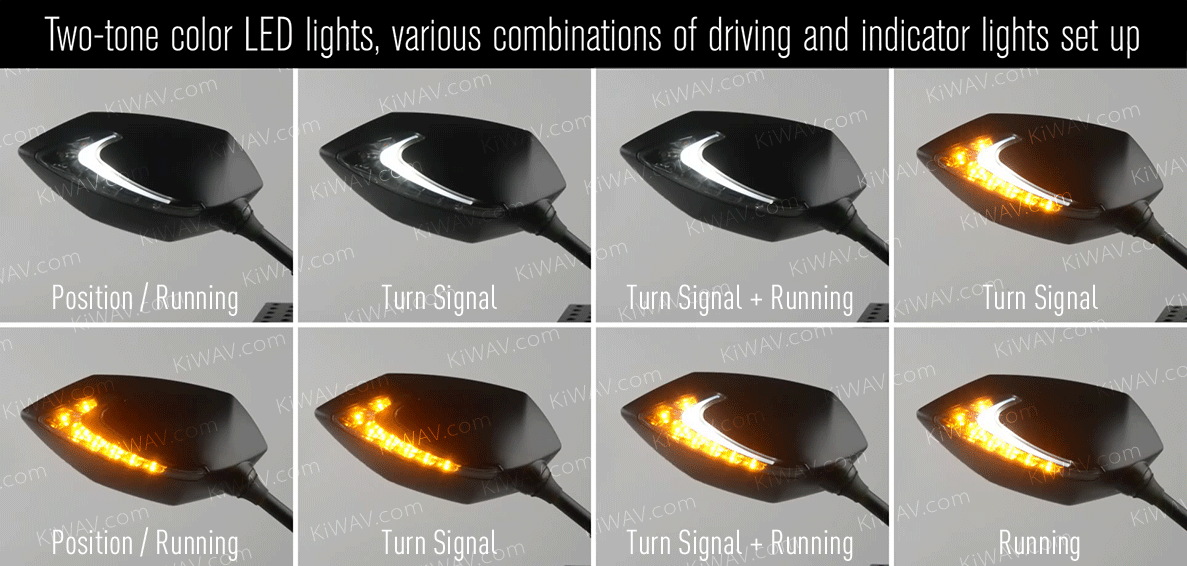 Sealed LED module with IP67 dust & waterproof compliant.
→ What does IP67 waterproof rating mean?
IP6x is the highest dust resistance rating, so this product is fully protected against dust.
IPx7, the second-highest water resistance rating, means this product can withstand immersion in water up to one meter (3.3 feet) for 30 minutes, tested in laboratory conditions.
| Code | Effective against | Description |
| --- | --- | --- |
| 6 | Dust tight | No ingress of dust; complete protection against contact (dust tight). A vacuum must be applied. Test duration of up to 8 hours based on air flow. |
| Code | Protection against | Test duration | Description |
| --- | --- | --- | --- |
| 7 | Immersion, up to 1 m depth | 30 mins | Protected from immersion in water with a depth of up to 1 meter (or 3.3 feet) for up to 30 mins |

Reviews
Monday, 23 April 2018
High Quality Parts - installed each side in about 10 mins. There are so many different opti

Summary, these are great mirrors despite the nags I menti, you might want to check with your local motorcycle shop to see if they have some laying around.

I'll try to post pics later (.
by M. Cory
Please log in to write a review. Log in