Vintage hand control with mechanical clutch & hydraulic brake for 1 inch handlebar black w/ chrome switches
---
in stock 10 item(s)
Product SKU: 100511000323003
Manufacturers: KiWAV
---
---
Feature




1" clamp diameter.
Suits old school custom motorcycle projects.
9/16" bore brake master cylinder.
Vintage and classic look.
Can be used with 2, 4, 6 piston brake caliper.
Material


Aluminum


Size


Banjo bolt: 3/8-24
Brake master cylinder: 9/16 bore

Fitment


Fit most custom motorcycle with 1 inch handlebar.
Color


Lever set: Black
Switch: Chrome

Net Weight


605g/ 1.33 lbs

Package


Hydraulic brake lever set x 1
Cable clutch lever set x 1
Spare pin x1
Switch x 2.
1. Only mount one mirror, on the left hand side control.
2. For switch harness installation, please consult professionals before use.
3. Brake light switch is not included.
4. Clutch cable is not included.
5. Smooth switch clamps with two buttons.
6. Suggested torque value would be between 17 to 22 ft-lbs for the banjo bolt.
*Forging
is a manufacturing process involving the shaping of metal using localized compressive forces.
Forged aluminum parts are stronger

than a part machined by a solid block of the same material. The reason for this is that a forged part has been strain hardened through repeated impact force. Forging allows for preferential grain direction to occur as well as a refined grain boundary which leads to precipitation hardening.
---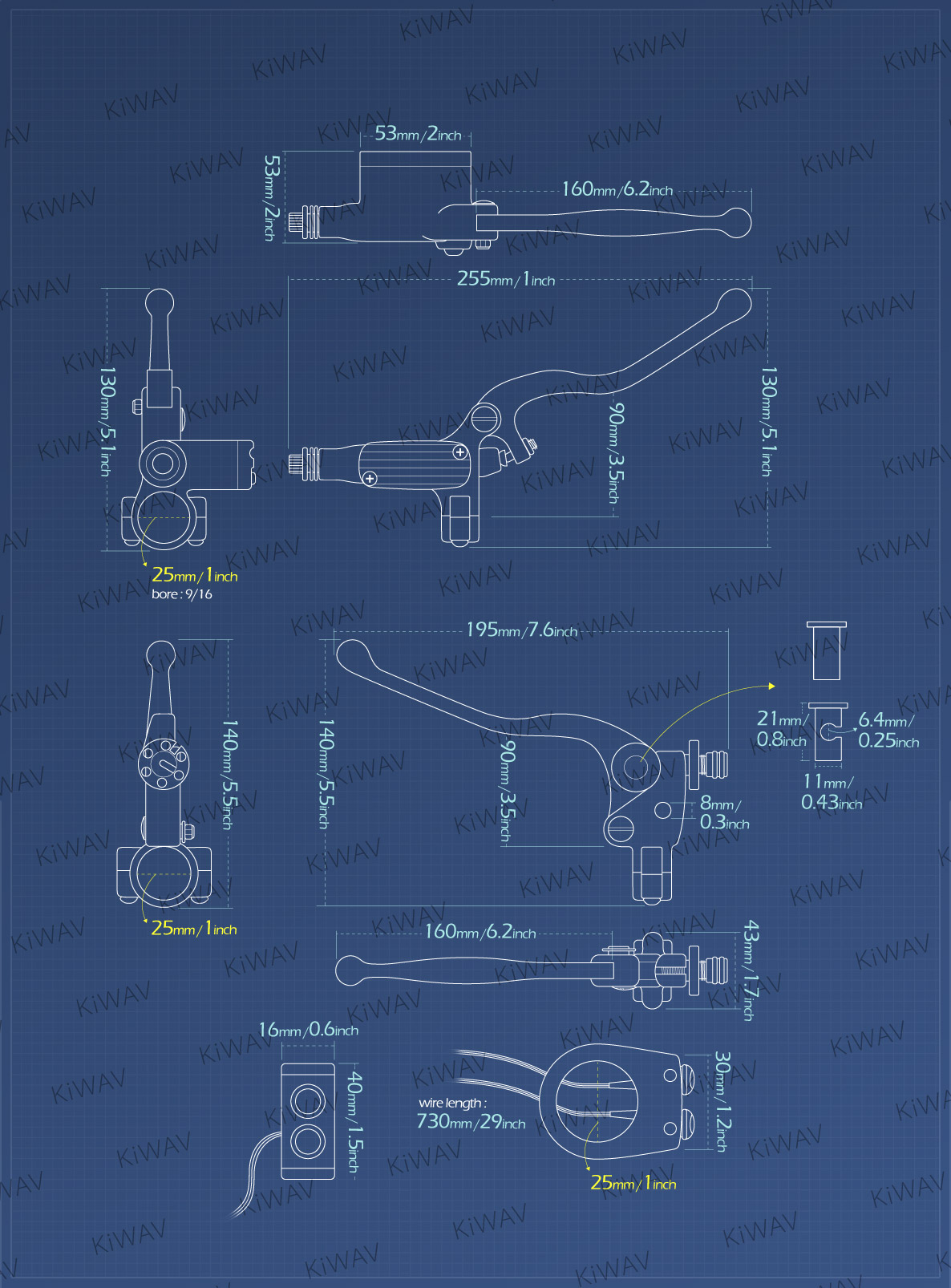 Please must check before making final decision.
We have measured this product as accurately as possible for your information.
A very good quality product, everyone comes back with very positive comments; however, there are certain models this product may not fit, Please check before ordering.