Motorcycle LED round tail light/brake light universal fit
Sealed LED module with IP66 dust & waterproof compliant.
→ What does IP66 waterproof rating mean?
IP6x is the highest dust resistance rating, so this product is fully protected against dust.
IPx6, the third-highest water resistance rating, means this product can withstand powerful water jets up to 3 mins from a distance of 3 meters, tested in laboratory conditions.
| Code | Effective against | Description |
| --- | --- | --- |
| 6 | Dust tight | No ingress of dust; complete protection against contact (dust tight). A vacuum must be applied. Test duration of up to 8 hours based on air flow. |
| Code | Protection against | Test duration | Description |
| --- | --- | --- | --- |
| 6 | Powerful water jets | 3 mins from a distance of 3 meters | Protection from water projected in powerful jets from a nozzle with a 12.5mm diameter opening in any direction |
Feature




LED stop/ tail lamp.
Much brighter and cooler than normal taillight.
Indicator function.( Need to install two lamps)
Material


Lens: Acrylic
Reflector: ABS
Frame: ABS

Net Weight


135g /0.3lbs

Package


1 PC
Light Source


Tail/ stop: 12pcs red LED, 12V 0.1W/ 12V 1.7W
Indicator: 6pcs amber LED, 12V 2.0W
The turn signal lights are 2.0W instead of 1.2W in mass production.
(Note: The imprint on unit wasn't revised specifically.)

Type


Tail lamp, (optional)turn signal

Certification


EMI class 3 and IP66 dust & waterproof Compliant*
ECE, SAE approved.
Fitment


Universal brake light/ indicator for custom project motorcycle, ATV, UTV, etc.

Direct replacement rear indicator for:
(Please note that the connector may vary, minor modification might be needed for it.)
Kymco Maxer EQ40DA
One Rehab President/ Phantom
Van Os Galaxy II/ Galaxy Plus 3/ Galaxy Plus 4/ Excel Galaxy II Deluxe/ Excel Galaxy Citiflyer
Travelux Discovery Sport 6-8mph Mobility Scooter
*Protected from dust / Protected against powerful jetting of water.
1. Lamp brackets are not included.
2. Modification maybe needed during installation.
3.Mating connectors and the mounting bracket are sold separately.
*Please allow measuring deviation due to manual measurement.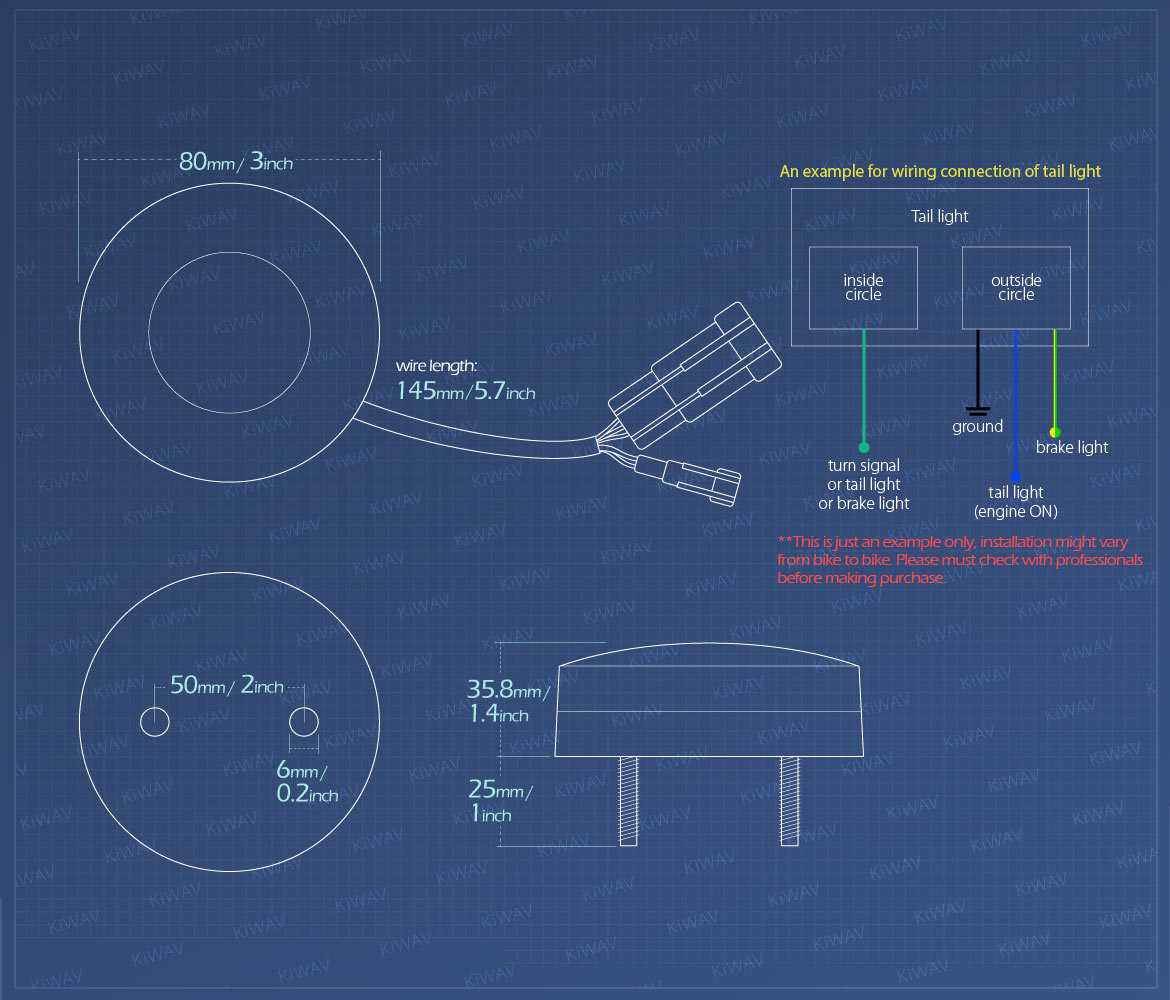 Reviews
Wednesday, 14 February 2018
I'm using these on an off road vehicle. I don't have them installed yet, but hooked them up to a battery to test them. Very pleased with the brightness of them and the size is perfect. Not to big and not to small. I also like the fact that all of your lights are in . --by Joseph
Please log in to write a review. Log in