Best thing since the drill press. It's a MUST HAVE along with your new handlebar!
To replace a stock handlebar with a new one, you will need to drill new holes into the new handlebar.
There are always holes into stock bars to keep the controls from twisting. Control assemblies have tabs that fit in the holes. It's very difficult to make a hole through a rounded surface, the drill bit or the handlebar itself will wander away easily. You can try to make a punch mark first so the drill bit will not get so far away. But the handlebar will roll away from you still, it will be frustrating if you try to hold the handlebar in place.
You can use a V-block or a bench vise to help you finish this job. Or you can try KiWAV handlebar drill tool.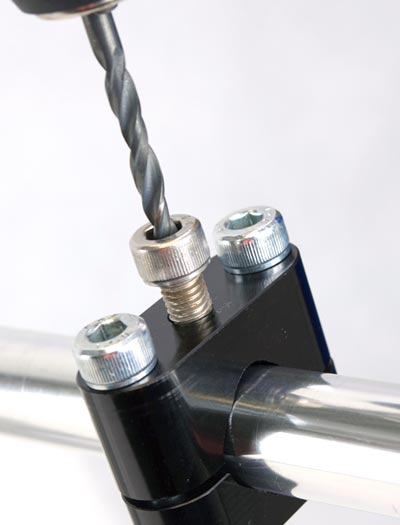 It's a small tool that won't take up much space of your toolbox, and it can do a perfect job to make a clean and straight hole into your handlebar.
Just make a mark with a marker, clamp the KiWAV handlebar drill tool in place and tighten evenly with an Allen wrench, then proceed to drill the hole with a portable drill bit through the center hollow drill guide bolt.
It makes the job so easy, and it saves your time and money to a local motorcycle shop. It is a very budget and useful tool to add to your toolbox, to make your feature motorcycle project.
Customer reviews:
I used this jig to drill a 2" long key way in my stainless steel propeller shaft, while my boat is in the water. Superb for that purpose. Got a nice and true line of drill holes. Then, I used it as a shaft clamp to create resistance on the shaft, so that I could pull my shaft coupling back down the shaft to set it in the right location. Let me tell you, this thing doesn't move once you lock it down. This is one awesome jib. It should be in the industrial category. All metal. Super strong. One of the nicest pieces of engineering I've see in years. And for the price? It's worth many times more... Read More
Best thing since the drill press. Correct bar angle to your preference without buying new bars.
Subscribe
There are many more helpful small tools out there. Things that make you go Ah-Ha!
Not expensive, but very helpful.
If you're interested, subscribe to us and you'll receive the hottest news straight to your inbox.